About Us
Housekeeping Services has been operating in the Cape since 1983.
We manufacture and distribute a comprehensive range of cleaning materials and allied products.
We service the following industries:
Bakeries, butchers, car valets, clinics, vets, hospitals, factories, dairies, fisheries, food manufacturing, restaurants, industrial & engineering factories, laundries, farming & livestock industries
We are a direct manufacturer of all types of industrial cleaning chemicals.
We supply a comprehensive range of allied equipment including;
Paper products, hand soap dispensers, air freshener dispensers, brushware, and automatic manual dosing equipment used in the above industries.
Company Details
All company registration certificates, certification certificates etc, are available for inspection on this website, should this be required.
Company registration no. 1986/06034/23.
Company VAT no. 4540101260.
SABSSANS 1828;2017 CERTIFICATION permit no. 10944/17182
SABS SANS 1853;2017 CERTIFICATION permit no. 10944/17183
NCRS (National Regulator for Compulsory Specifications)
NRCS/8054/267002/1093 DATED 04/05/22
NRCS/8054/267002/1083 DATED 29/04/22
NRCS/8054/267002/1082 29/04/22
ISO 9001; 2015 CERTIFICATION PERMIT 805120311/5 DATED 18.05.22
Dekra Certification, Stuttgart, Germany.
BBBEE Level 4 Contributor
Sparkling Clean
Use quality approved products that will produce the cleaning results you desire. See our range of products by clicking on PRODUCTS
Reliable Deliveries
We deliver to all areas of Cape Town and environs, Somerset West, Strand, Gordons Bay, Stellenbosch, Paarl, The West Coast and the Overberg.
Affordable Prices
Contact us for our current pricing on any of our product range, or ask for a company representative to contact you; we have the correct price for you.
Satisfaction Guaranteed
As we manufacture all our products to ISO 9001;2015 Management System and SABS/SANS 1828/1853 Certification, you are guaranteed of quality products.
Products
General Industrial Cleaning
Air Freshener  >  Cherry, Lavender, Apple, Country Fresh, Rose, and Lemon
Carpet Shampoo  >  Cherry, Lavender, Apple, Country Fresh, Rose, and Lemon
Carpet Spotters  >  Various Spotters to remove oil, grease, wine, and blood from carpets
General Purpose Cleaner  >  Rose Perfume General purpose cleaning of wall, windows, floors, cloakrooms, etc.
Extra Heavy Duty Cleaner  >  For factory cleaning of floors and working surfaces
Concrete Cleaner  >  For the removal of petroleum oils of concrete and brick surfaces
Floor Kleen  >  For the removal of protein grease in butcheries, factories, and abattoirs
Action Hand Cleaner  >  A grit or smooth paste hand cleaner for workshops
Liquid Ammoniated Cleaner  >  A thick Handy Andy type cleaner
Floor Polish – Non Slip  >  A high density polymer acrylic non slip drybrite polish
Mop & Buff  >  An easy to apply mop or machine buff polymer wax polish
Floor Stripper  >  Floor Stripper to remove all types of old polishes from all floors
Toilet Bowl & Urinal Cleaner  >  Used to remove difficult soils and scale from toilets and urinals
Liquid Drain Opener & Solvent  >  An effective drain liquid used to remove most soils from drains
Pine Gel  >  A pine jelly used for cleaning and odour control
Pine Disinfectant  >  A cleaner and disinfectant with a pine fragrance for cloakrooms
General Purpose Cleaner & Sanitiser  >  A cleaner and sanitiser with a lavender fragrance
Liquid Hand Soaps  >  A variety of hand soaps with different fragrances and colours
Car Care, Valet & Workshops
Car Wash & Wax  >  Wash and wax in one operation
Car Shampoo  >  Washing of vehicles and truck
Mag Wheel Cleaner  >  Maintains mag wheels like new
Silicone Polish – Water Based  >  A natural enhancer for all rubber, vinyl and decorative finishers
Silicone Polish – Solvent Based  >  A natural enhancer for all rubber, vinyl and decorative finishers
Engine Cleaner  >  An effective solvent for the removal of oil and grease from engines
Antifreeze  >  Highly concentrated antifreeze for radiator use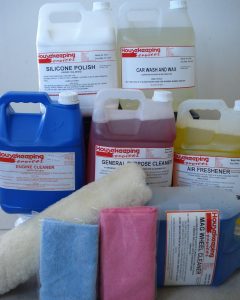 Universal Washing Powder LF  >  A perfumed industrial washing powder for use in all machines
Universal Washing Powder – Premium  >  A high perfumed premium washing powder for use in all machines
Liquid Bleach  >  Concentrated bleach for laundries and general use
Powder Bleach  >  Industrial powder oxygenated bleach for laundry use
Laundry Spotters  >  A variety of different spotters for oil, grease, wine, blood etc.
Fabric Softener  >  Perfumed fabric softener
Oven & Grill Cleaner  >  Removal of high grease build-up on cooking surfaces
Smoke House Cleaner  >  Removal of high carbon & grease build-up on cooking surfaces
Dishwashing Liquid  > For manual dish and pot washing
Machine Wash Dishwashing Liquid  >  Used with a doser for Industrial dishwashing machine
Machine Wash Rinse Aid  >  Used with a doser for Industrial dishwashing machine
Protect-U Eco Sanitiser  >  A highly effective food grade neutral sanitiser for all surfaces
Carbon and Grease Remover  >  Used in our Bakery/Kitchen tank for the removal of high carbon build-up on all cooking and baking utensils and equipment
Bakery/Kitchen Cleaning Tank  >  Used with Carbon & Grease remover for the removal of high carbon build-up on all cooking & baking utensils and equipment
SABS SANS 1828/1853 Certified HACCP Range
Dishwashing Liquid  >  SABS SANS 1828 APPROVED
Smoke House Cleaner  >  SABS SANS 1828 APPROVED
Extra Heavy Duty Cleaner  >  SABS SANS 1828 APPROVED
Floor Kleen  >  SABS SANS 1828 APPROVED
Carbon & Grease Remover  >  SABS SANS 1828 APPROVED
Bleach Liquid  >  SABS SANS 1828 APPROVED
Protect-U Eco Sanitiser  >  SABS SANS 1828 APPROVED
Auto Industrial Dishwashing Liquid – SABS SANS 1828 APPROVED
Handsoap Antibac – SABS SANS 1828 Approved
Contact Info
Drop Us a Message